(Hub - Above Entrance)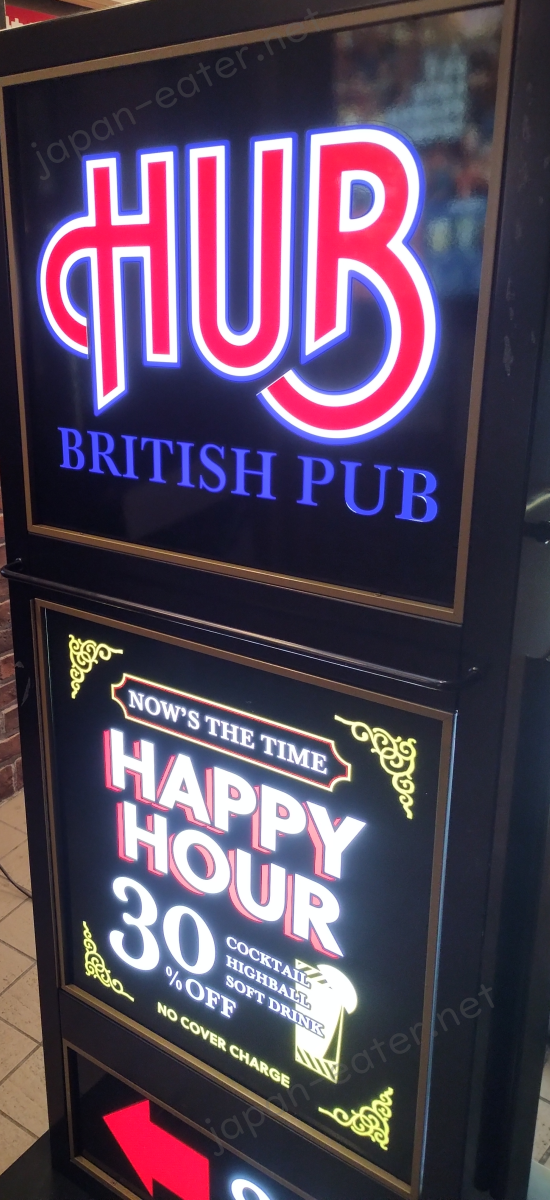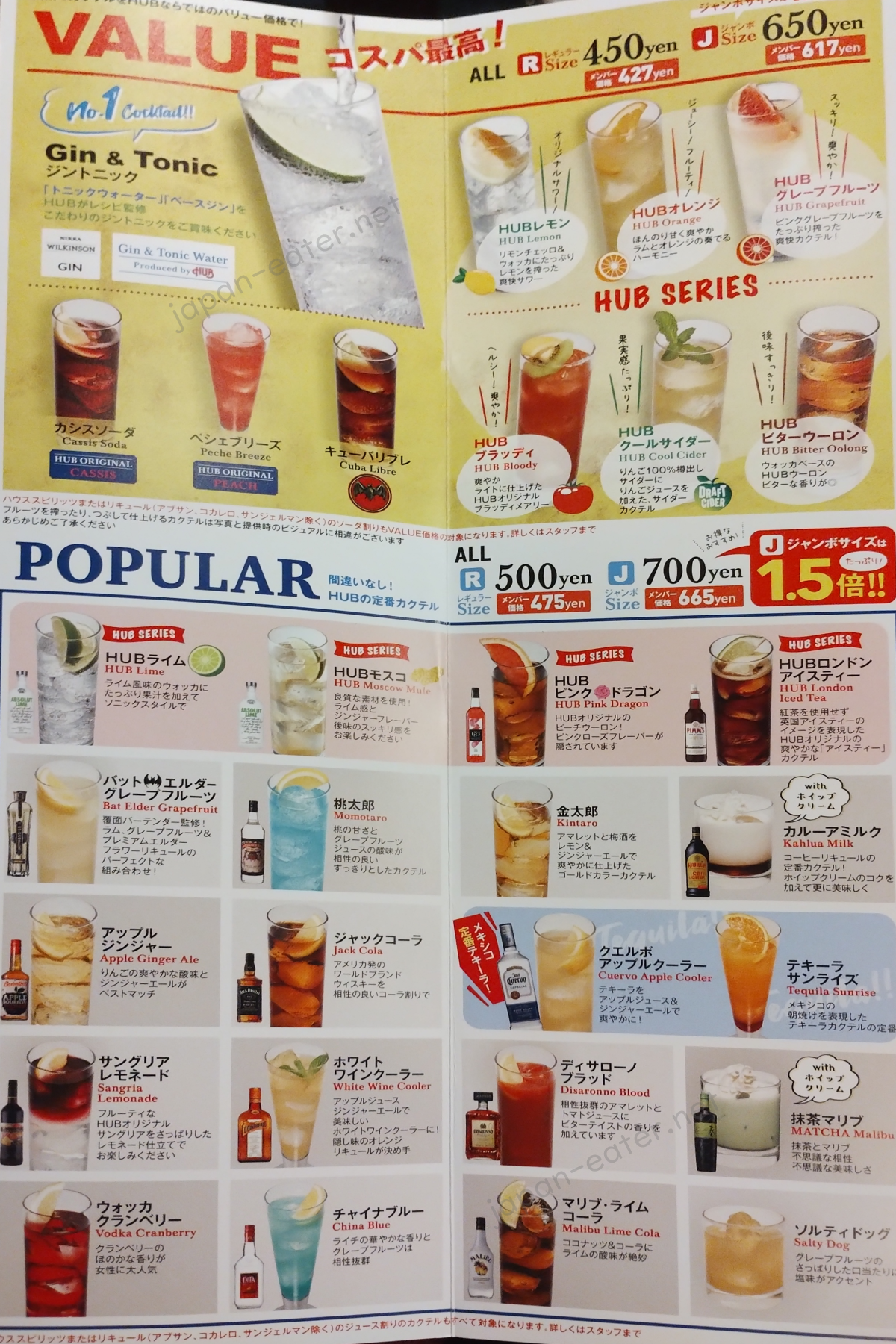 General Description
Rue
It's Hub the British Pub! It's a fun thing to say, but also a place Yue and I have visited a few times now. As usual, we are visiting during Happy Hour, so many drinks are discounted.
Although it is modeled after British pubs, Hub is a Japanese company. It first opened in 1980 in Kobe. That store unfortunately closed in 1986, but they now have 102 pubs all over Japan!
I should also mention how you order here. You have to order at the counter. You pick up your drinks there as well, but for food, they give you a table stand with a number to bring back to your table. Once your food is ready, a server will bring it over.
Their website is available in English as well as Japanese, so if you're interested in their full menu, check it out!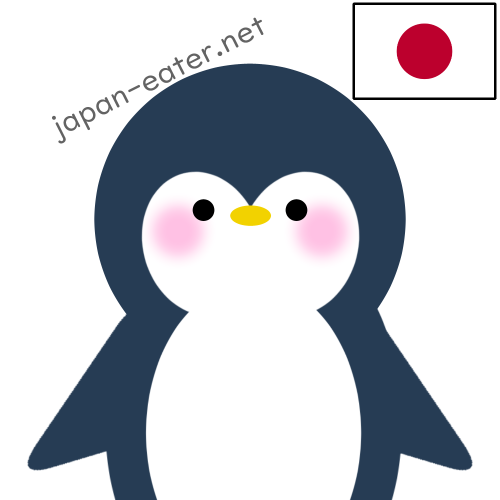 Yue
One good thing about this pub chain that I want to tell you is that they don't require any table charge!
Most Japanese style pubs (izakaya) require a table charge-ish fee called oto-shi. Oto-shi is a system where you are charged for a mandatory small "dish" or "snack." Some places even charge double - normal table charge and oto-shi! I really don't like this custom.
As compared to those izakaya, Hub is a very honest and humble business.
Another good thing is that you can get a discount if you sign up for a membership card. It costs 500 yen to sign up. You get 5% off of food and drinks, but it doesn't stack with other deals.
It's a good place to drop by and have one or two drinks when you have a time before or after going somewhere.
Even if you order just a half-pint of beer and stay there only for 10 minutes, their staff always welcomes you friendly.
What we ordered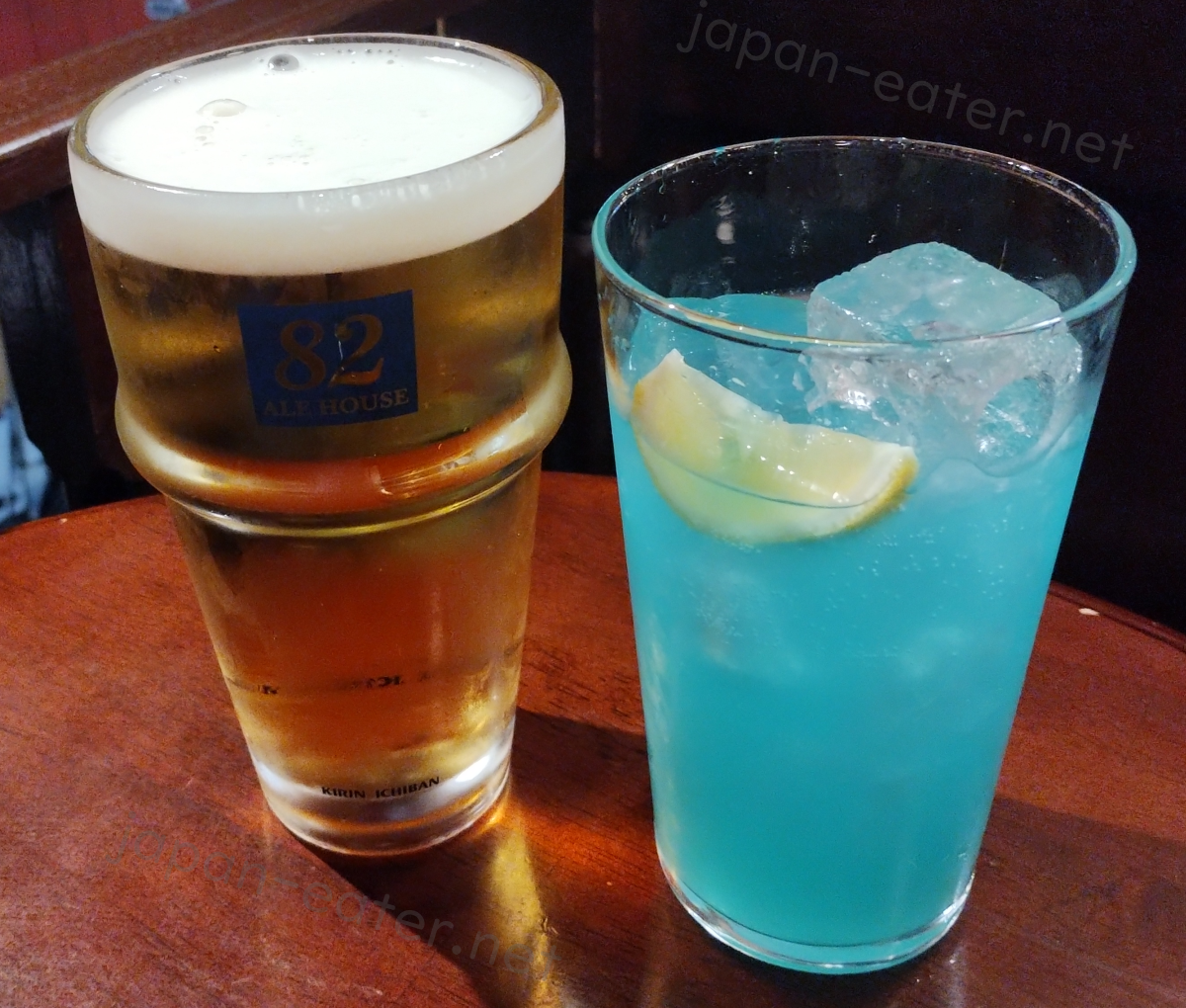 Draft Beer (Kirin Beer) (1 Pint)
(Price - 1/2 Pint Reg: 450 JPY)
(Price - 3/4 Pint Reg: 650 JPY)
(Price - 1 Pint Reg: 850 JPY / Happy Hour: 800 JPY)
Rue
What can I say? It's nice beer. Its description says that it is brewed using "the Ichibanshibori method, a symbol of Kirin's beer making." Well, I like Kirin beer so it makes sense I like this too. It has a nice wheaty taste. The taste isn't super strong though.
It's not the best beer I've had, but it's good.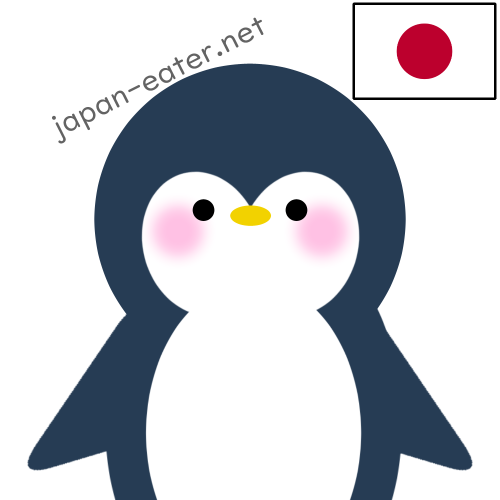 Yue
Kirin is one of the major Japanese beer companies.
For me, it's a bit sweet compared to other Japanese beers like Sapporo and Asahi.
China Blue (Dita Lychee Liqueur) (J Size)
(Price - R Size Reg: 500 JPY / Happy Hour: 350 JPY)
(Price - J Size Reg: 700 JPY / Happy Hour: 490 JPY)
Rue
Yue ordered the China Blue. It's made with Dita Lychee Liqueur and I'm assuming some kind of grapefruit juice. It tastes reeaaally nice. It's sweet and has that summer tropical fruity feel. If you're looking for something light, fruity, and refreshing, this is a good choice!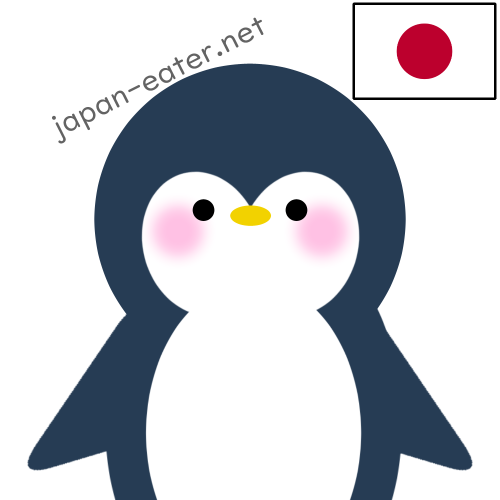 Yue
I usually order this or Hide & Seek, but it seems like Hub removed H&S from their menu recently... So China Blue will be my only option for my first order I guess.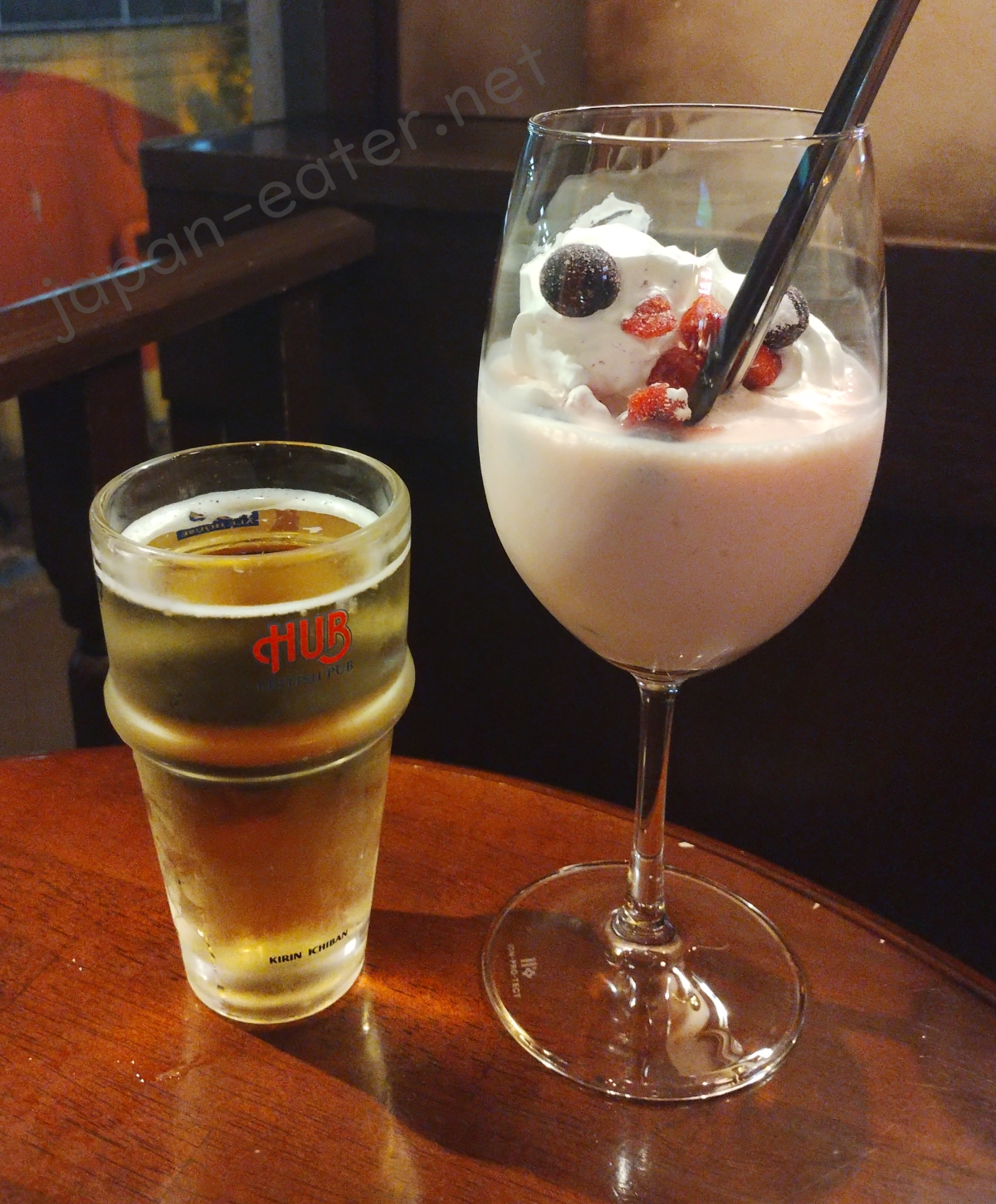 Draft Cider (1/2 Pint)
(Price - 1/2 Pint Reg: 450 JPY)
(Price - 1 Pint Reg: 850 JPY / Happy Hour: 800 JPY)
Rue
I really like apple ciders - but not this one! This was quite the let down. It might be because we had the sweet China Blue and Ice Cocktail, but it isn't sweet at all. It's actually pretty sour. It tastes like sparkling non-sweet apple juice. It's okay, but I wouldn't get it again nor would I personally recommend it to someone.
By the way, it seems like that only the 1 pint beers and ciders are included in Happy Hour. So this drink is just regular price.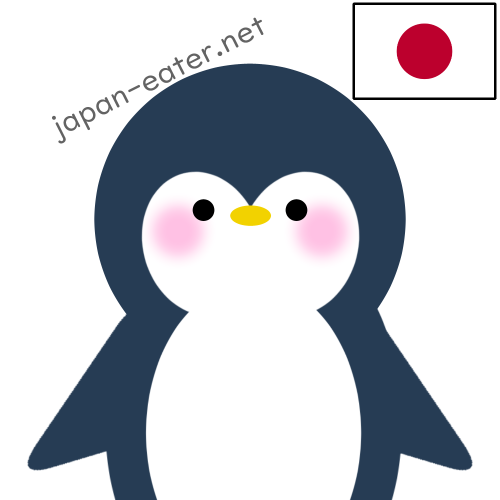 Yue
It was not as good as I expected.
I feel its taste is kinda similar to Steam Whistle, which I liked when I was in Canada.
If you have ever tried that, imagine this Draft Cider as a plain and weak tasting version of Steam Whistle.
Hub Ice Cocktail Strawberry & Lychee (Dita Lychee Liqueur)
(Price - Reg: 700 JPY / Happy Hour: 490 JPY)
Rue
This is the drink of the night!!! Yue ordered it but I definitely loved it more!! It looks nicer in the menu picture though. This lovely drink is made with strawberry milk and again Dita Lychee Liqueur.
It's sweet and a bit fruity. The whipped cream is nice and sweet. It has a strong creamy taste, which I like.
The drink itself is like a fruit smoothie. It's not too thick or ice-like. It kinda has a minty taste to it.
The one detractor is the frozen fruit. It's...there. Some have flavour, some are bland.
It's amazing. It's a dessert and an alcoholic drink - both things I love. I'm getting this every time from now on!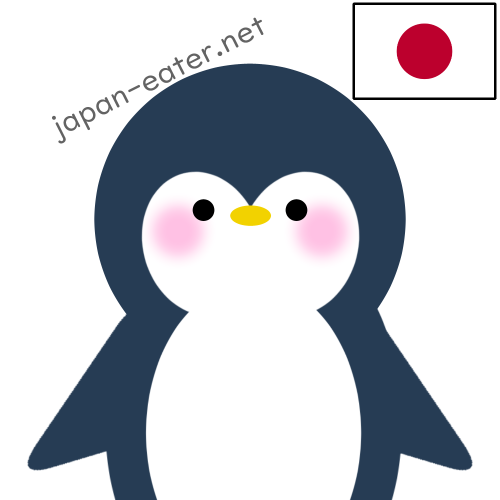 Yue
I don't know why, but I feel the taste of yogurt matches with alcohol perfectly. So I usually order at least one yogurt based cocktail when I come to this kind of place.
Fortunately, Hub also has a yogurt cocktail!
I believe you can enjoy it even if you are not a big drinker.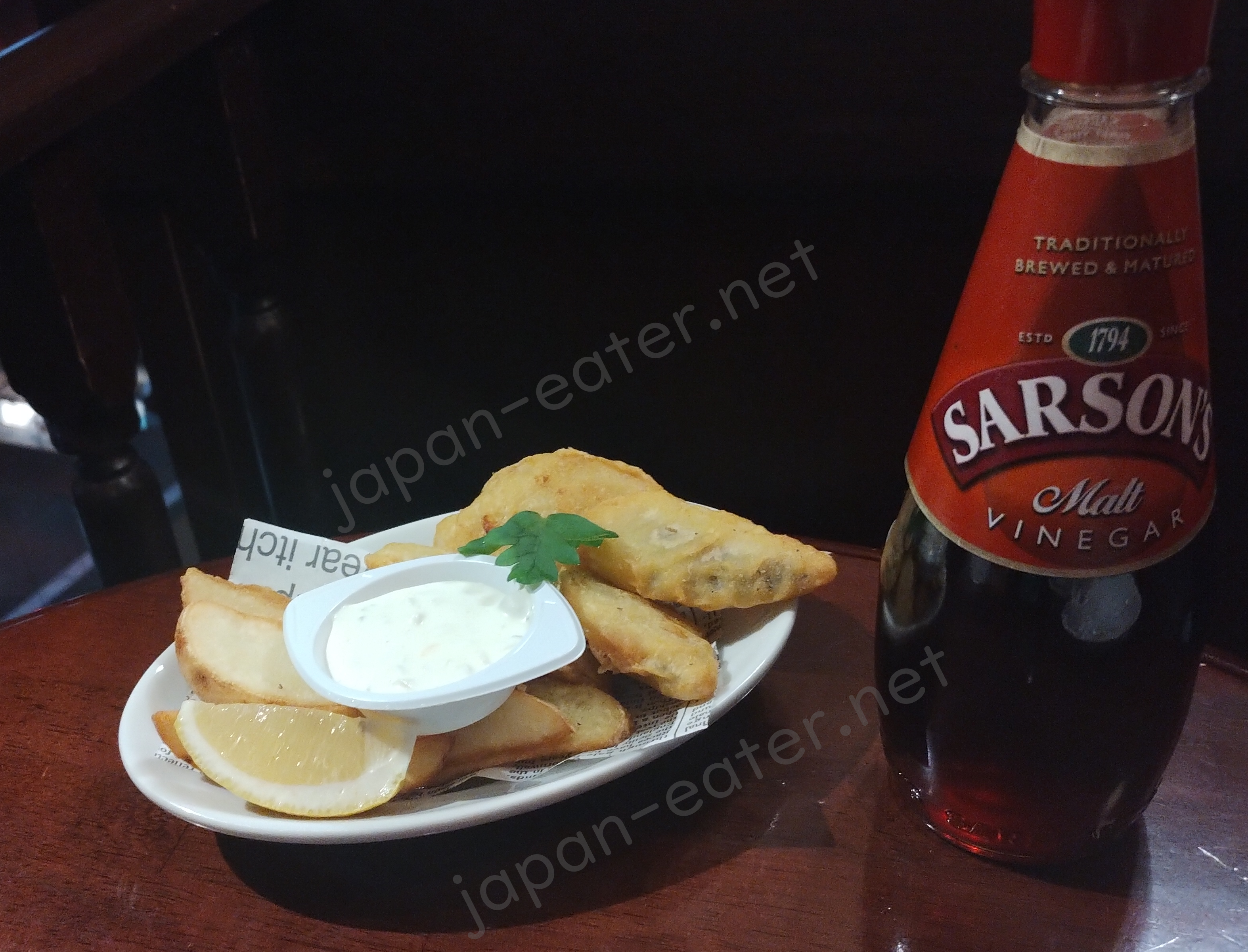 Bite Size Fish & Chips (Half Size)
(Price - 4 Pieces: 400 JPY / 7 Pieces: 700 JPY)
Rue
You can smell the fish and chips as the server brings them over. We actually ate right before we came, but the delicious smell makes me hungry again!
It's served nice and hot. The wedges are a bit crispy. Could be crispier though. The fish is good but nothing special. But hey, you're at a pub and it's definitely a tasty dish to munch on as you drink. The batter is wonderful and crispy. It's surprisingly not oily. The tartar sauce is good.
I really like fish and chips and always order this when we come!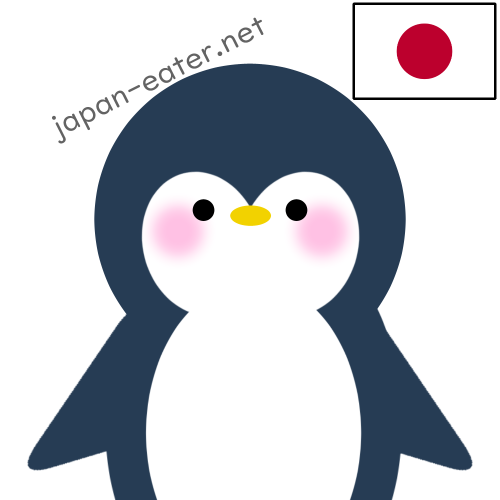 Yue
Honestly, I don't know many British dishes.
But fish & chips is famous enough that even I know it!
The other one I know is Stargazy Pie which I saw in the Ghibli movie Kiki's Delivery Service.
I have to apologize to British people because I had had a bad impression of British dishes even though I had never tried any until I ate fish & chips for the first time about 8 years ago.
One of my college professors was from England and he told me "I know many people say British dishes suck, but try out fish & chips at least. You would love it!"
And he was right. I LOVE IT!
Review
Price


Average Budget for 1 person: 1500 - 3000 JPY (regular time)


Service & Hospitality


The servers are nice. They greet you when you come and as you leave. However, our table was never cleared so it started to get a bit cluttered.
The bar we visited is on the second floor. I didn't see an elevator available. There are 2 small but clean bathrooms. The toilet has some functions and braille.

Atmosphere


Hub being a British pub, and not a Japanese izakaya, has a very Western atmosphere and aesthetic. It very much feels like after work on a Friday.
The music is a bit loud like you would expect in Western bars. We didn't stay late into the night, but while we were there, the music never got too loud. I'm assuming it's (mostly) British pop/rock music because I didn't recognize many songs. It's a bar, so people will end up talking a bit louder than normal.
There's a mix of bar tables and booth tables. They're not too crowded together. The place is nice and clean. The lights are scattered about, so there's a dim atmosphere but it's still well lit.
Smoking rules depend on the location. Some have some smoking booths, smoking areas, or complete no smoking rules.

Food


There's a wide selection of drinks, both alcoholic an non-alcoholic. All the cocktails we had today didn't have a strong "alcohol" taste, so I think that many people can enjoy it. I've enjoyed most of the drinks I've had here. There's a decent selection of food. The dishes I had were all tasty, but on the small side.

Overall


We obviously like coming here. We always come soon after opening, so we catch Happy Hour before it gets crowded. Honestly, outside of Happy Hour, I think the menu is expensive. During Happy Hour however, it's pretty decent. It's a fun place to hang out and have some drinks.
I'm not really into sports, but they have TVs inside playing sports...stuff. They also advertise when games are playing, so I'm assuming those are popular "events" at the pub. If you're interested in that kind of thing, check it out!

Would I come again?

Yep! I recommend eating beforehand though.