(Ichigo Keeki Gumi | Strawberry Cake Gummy)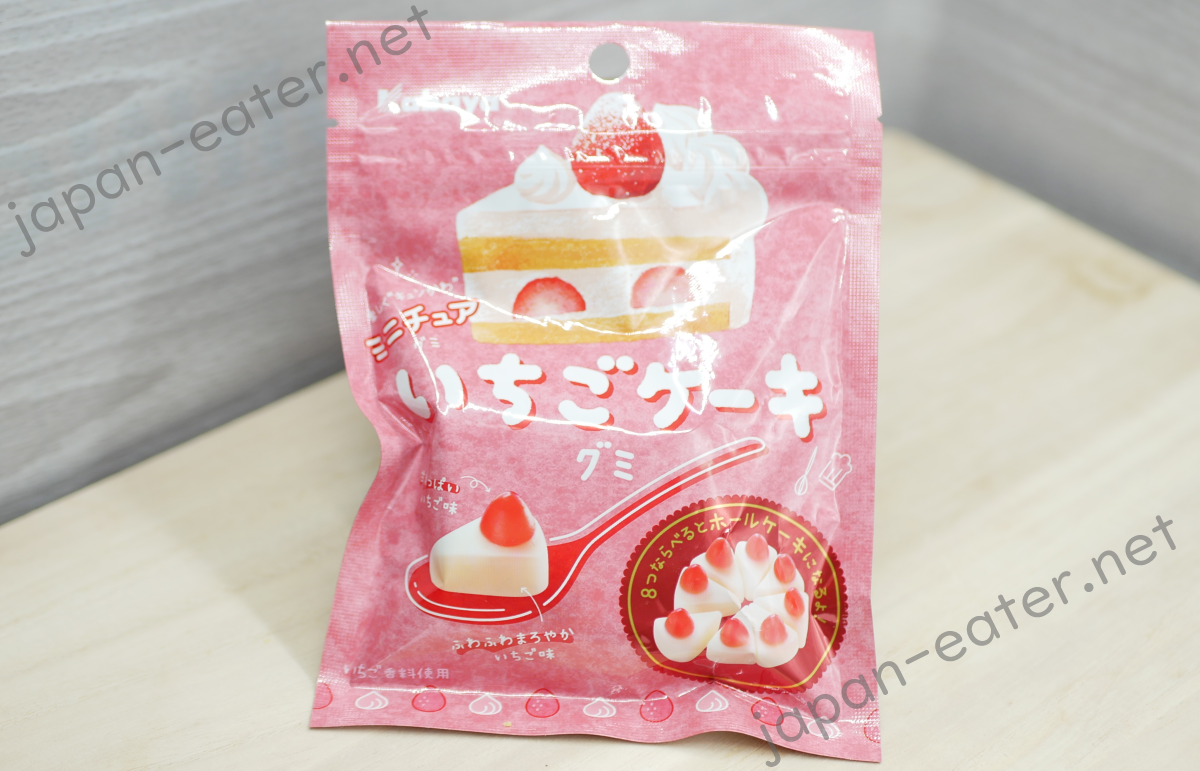 General Description
We're back with our first sweet treat for the year! It's a strawberry cake...gummy!?
This gimmicky miniature gummy makes its cute shape its main selling point. Just look at how cute the gummy and package are! Well... some of the gummies are a bit wonky, but they're still fun. The package advertises that you can make a "whole cake" if you line up 8 pieces (don't worry, there are more than 8 pieces inside). On the back of the package is a little card you can cut out to place on top!
We'll be seeing some more strawberry treats for the next little while because strawberries are currently in season! But for now, let's have a slice of this gummy!
[Cultural Note] Seasonal Flavours

Perhaps because Japan is an island country that shares no borders with other countries, the foods and flavours that are "in" change with the seasons.
While you can find some seasonal flavours all year round at certain stores, you'll see cafés and restaurants advertising specialty drinks and desserts and stores selling unique snacks depending on the time of year.

Some notable seasonal flavours are:

Strawberries (mid/late winter)
Cherry Blossom (early spring)
Maccha (spring)
Mint (early summer)
Pineapple, Lychee, Lemon, Watermelon (summer)
Sweet potato (fall) Chestnut (fall)

[For more cultural notes, check this page.]
Review
Price


96 JPY (1 40g pack)

Taste


As to be expected, it doesn't actually taste like a strawberry cake. Rather the white "cake" has a dull sweet taste and the red "strawberry" has a sharp, sour yet sweet strawberry taste. The white part is supposed to also be strawberry flavoured, but I don't taste it. I thought it would have a creamy taste, but it doesn't. It has more of an artificial taste than other gummies I've had.

Texture

While it is still very much a chewy gummy, it has a sliiiight squishy, marshmallow-like resistance to it.

Smell

There is a sweet strawberry smell when you open the package.

Overall


It's weird, but I like it. As an odd texture enjoyer, I think the texture is what carries it for me. That being said, besides it's cute shape, there isn't much that stands out about this gummy. It's pretty regular. It's nice but I don't think it's something you absolutely have to try. I can see the texture being a big hit-or-miss point for people.

Would I try again?

Yeah. I like it and it's pretty cheap.