(Akai Kitsune Udon [above] & Midori No Tanuki Tensoba)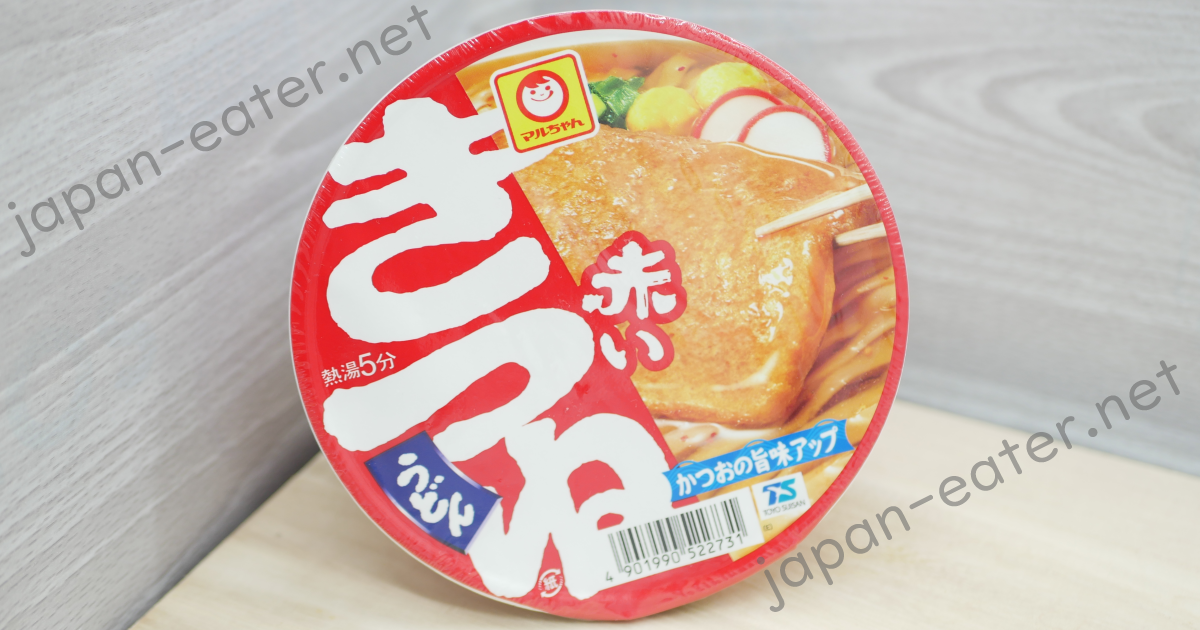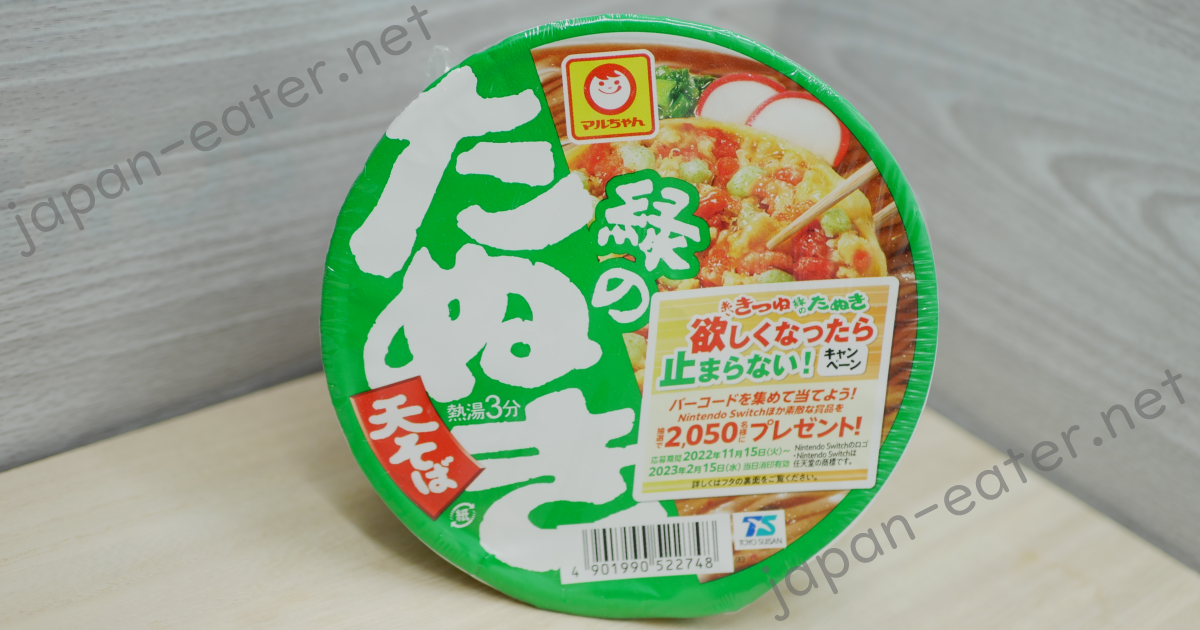 General Description
あけましておめでとうございます! Akemashite Omedetou Gozaimasu!
We're back with another instant noodle cup from Maruchan! 2 actually - Midori no Tanuki Tensoba and Akai Kitsune Udon. I wanted to review a soba dish for New Year's so Yue suggested doing these 2 as a set.
Although these instant noodles are packaged separately, they are often seen as a pair. They are the main products of Maruchan's instant noodles series. Their names are sung together in their commercial jingle. Because of the catchy tune and phrase, this instant noodle set has become very iconic. You may have seen parody products in manga and anime. There was even a Splatfest in Japan for them!
Kitsune udon is udon served in a soup and topped with seasoned aburaage . Aburaage is used in many Japanese dishes. On its own, it has a puffy sponge-like texture.
Tanuki soba is soba served in a soup and topped with tempura. Maruchan's Midori no Tanuki Tensoba uses kakiage, a type of tempura.
Both the udon and soba are easy to prepare. All you need to do is open the lid halfway and take out the soup seasoning pack. Prepare some hot water (at least 470ml), pour it in the bowl until the line, close the lid, and wait 5 minutes for the udon or 3 minutes for the soba. Finally mix in the soup seasoning (the bigger side is soup flavouring, the smaller side is shichimi ) and enjoy!
[Cultural Note] Toshikoshi Soba

年越し (toshikoshi) means "New Year's Eve" or "end of the year." So toshikoshi soba is soba noodles eaten on the night of New Year's Eve. It does not need to be a specific brand or type of soba.

There are a few reasons behind this custom. It is said that the shape of the long noodles symbolize long life and such. Breaking the soba noodles with your bite is also seen as "breaking" off the new year.
[For more cultural notes, check this page.]
Review
Price


108 JPY (1 100~g cup)

Taste


The udon soup has a strong dashi fish taste. The noodles don't have a strong taste to me, but I've never been good at differentiating between types of noodles. They have a slight udon noodle flavour. I can't really taste the eggs. The aburaage tastes nice and has a sweetness to it. It also soaks up the soup, so it's a nice way to get the soup flavour as well. The green onions and seasoning add more depth to the soup.

The tensoba soup has a seafood taste. It doesn't have the same strong dashi fish flavour that the udon soup has. The kakiage is nice. It has that light oily taste that tempura has. The veggies don't stand out to me. However, I think the shrimp flavour comes through.

I was worried about adding the shichimi spice because I'm not good with spicy foods, but it's perfectly fine. Neither soups are too salty. Both of the soups have a deep, delicious taste.

Texture

For the udon, the noodles are soft. I feel like they are less firm that other instant noodles I've had, but that might be because I took time taking the photos. They aren't mushy though. The eggs are like little squishy foam balls, but that's to be expected with instant food. The aburaage keeps its texture. If you haven't had it before, it's a bit hard to describe. It's squishy but not soggy or mushy. It's a bit different than the aburaage I usually get. It's thicker and not as puffy. However, I much prefer this one!

For the tensoba, I didn't make the same mistake and took the photos quickly, so the noodles are firm. The tempura still has some crunch to it, but parts of it were completely soft. You can see in the picture how easily it tore apart.

Smell

You can smell the noodles and soup after adding the hot water. It smells delicious.

Overall


I like them! The richness of the soup with the complimentary taste of the toppings make it really nice. Especially during the winter, eating a bowl makes me feel all warm and satisfied. I think adding a little extra ingredients will step up the flavour and make it more filling. But it's fine as it is. They each have some veggies and a topping.
They're both good and satisfying. I don't think you'll be disappointed. I personally like the udon more (maybe it's my sweet tooth).

Would I try again?

Yep! I'm definitely adding them to my instant noodle rotation.