(Noaaru Usuyaki Annouimo Kuriimu| Noir Fried/Baked Thins with Sweet Potato Cream)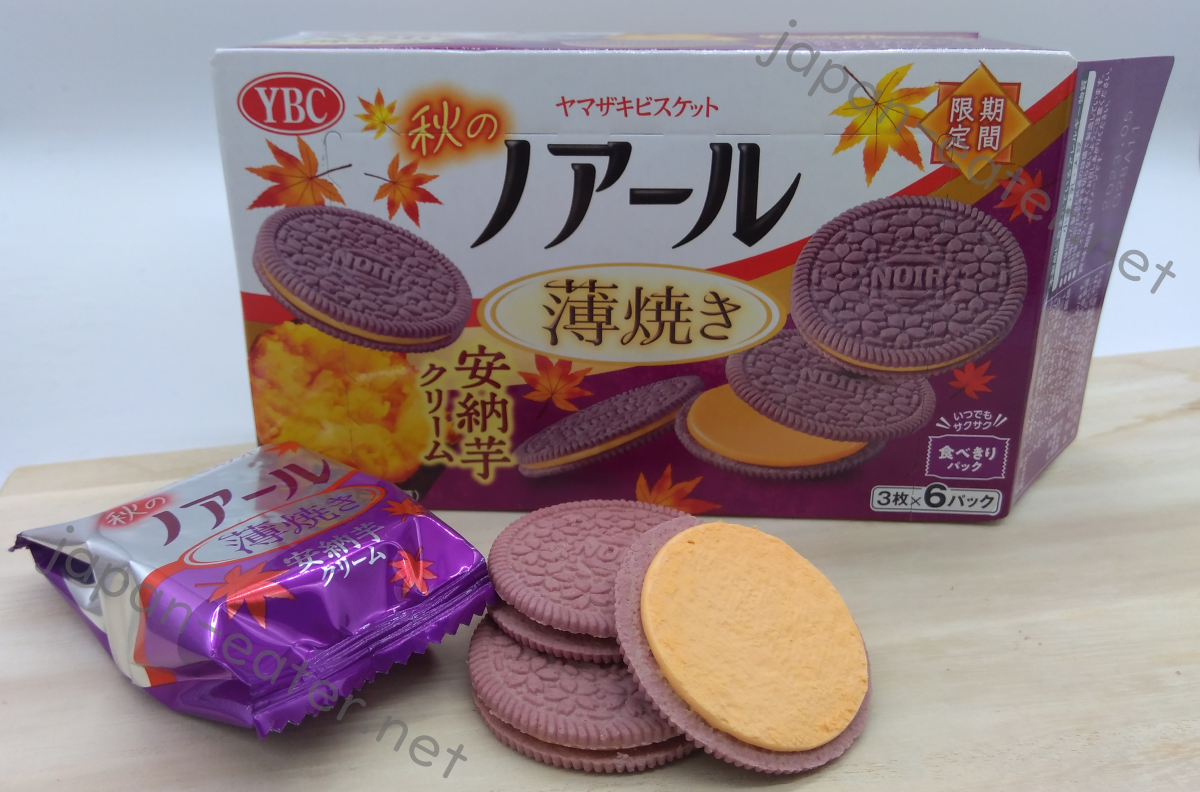 General Description
We're still looking at seasonal flavours, but as we're getting further into October, those flavours may change a bit. However, today we're trying another sweet potato treat! It's a cookie sandwich from the Noir series! I actually buy the regular Noir cookies quite often.
Noir has an interesting history. From what I understand, YBC (Yamazaki Biscuits Company) is owned by Yamazaki (whose products we looked at before). Yamazaki had a joint venture with Nabisco (called Christie in Canada!), who make cookies such as Oreo's. However the joint venture was later terminated (I believe from Nabisco's end) and Nabisco continued to make their products separately. So what did Yamazaki do? They started making their own Oreo-like cookies with their new Noir series, made at a former Oreo factory even!
Anyways, time to see how these cookies measure up!
[Cultural Note] Seasonal Flavours

Perhaps because Japan is an island country that shares no borders with other countries, the foods and flavours that are "in" change with the seasons.
While you can find some seasonal flavours all year round at certain stores, you'll see cafés and restaurants advertising specialty drinks and desserts and stores selling unique snacks depending on the time of year.

Some notable seasonal flavours are:

Strawberries (mid/late winter)
Cherry Blossom (early spring)
Maccha (spring)
Mint (early summer)
Pineapple, Lychee, Lemon, Watermelon (summer)
Sweet potato (fall) Chestnut (fall)

[For more cultural notes, check this page.]
Review
Price


236 JPY (6 packs of 3 cookies)

Taste


The biscuit itself is very interesting. It has a savoury sweet potato taste that quickly gets masked by the sweet cookie taste. It's a mix of bitter and sweet. I feel that at the end it tastes almost like a cake.
On the other hand, the filling is sweeter but still not that sweet. I would say it's less sweet than a normal sandwich cookie filling. You can kinda taste the sweet potato flavour, but its hard to pick out. If I ate one without knowing the flavour, I wouldn't have guessed it.

Texture

The biscuit is your standard hard cookie. The filling is more creamy/buttery than the normal filling.

Smell

There's a sweet, sorta sweet potato smell as soon as you open the package.

Overall


They are bizarrely good. It has such an odd taste. I think you're either going be fascinated with it or weirded out by it. On the plus side, the sweet potato taste isn't super strong nor is the cookie super sweet, so if you're not a fan of either of those things, you can still enjoy it. That being said, these are so thin. They're like diet cookies. The usual ones are standard size. I could down the whole box in 1 or 2 sittings, and by the end of it be bored of the taste.

Would I try again?

Probably not unless I wanted someone else to try it. I'd recommend it to others as an interesting experience, not as an amazing snack. I prefer the regular cookies.